Synopsis
Yamla Pagla Deewana: Phir Se Hindi Movie
An upright Ayurveda practitioner is hounded by big pharma giants for his age-old formula called Vajra Kawach that cures everything from pimples to impotency. But how long can he keep this magic pill only for the poor?
Yamla Pagla Deewana: Phir Se Hindi Movie
The film revolves around 2 brothers namely Puran (Sunny Deol) and Kala (Bobby Deol). They live in Amritsar, Punjab where Puran manages the old Dawakhana of his ancestors based on Ayurveda. Kala is a notorious younger brother who wants to earn money, contradictory to Puran who wants to spread the cheaper way of medication rather than commercialization by private pharmaceutical companies. Marfatia Pharmaceuticals is one such company who offers a huge sum of money in turn for the process of making Vajrakavach, the ayurvedic remedy that cures all illnesses. He instantly rejects Marfatia's offer and punches him, causing him to bleed and he plans on taking revenge from Puran. Parmar (Dharmendra) is an old Lawyer living as the tenant in Puran and Kale's house. He pays only Rs. 115 rent since more than 35 years and annoys Kala a lot. He is also an admirer of angels and sees a lot of Angels (Apsara) who no one can see. A surgeon from Gujarat named Chiku (Kriti Kharbanda) is a carefree girl who drinks and parties. She wants to have a clinic of her own someday. She decides to go to Punjab to study Ayurveda under Puran. Instead, after a series of twists and turns, it is revealed that Marfatia sent her to steal the Vajrakavach. She steals the old manuscripts for the process of making Vajrakavach while everyone is out to enjoy an engagement party. She leaves for Gujarat and Kala, who has fallen for her, tries to keep contact with her, but fails. Marfatia now, sends a legal notice to Puran as he has now patented the Vajrakavach and renamed it the Cure Medicine. Puran, now left to battle Mafatiya, contacts Parmar. They all agree and go to Gujarat and live in the same colony, unknowingly where Chiku also lives. The colony, who hates Punjabis, starts to like Puran as he cures an incurable girl with bad eyesight. During the lawsuit, the judge is revealed to be an old friend of Parmar's (Shatrughan Sinha). After 2 dates, Mafatiya offers Parmar 10 crores and Parmar agrees.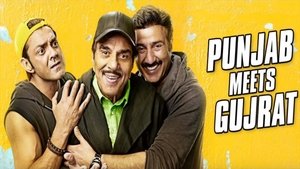 Original title
यमला पगला दिवाना फिर से
TMDb Rating 4 1 votes